Real-life Art Classes
I teach drawing classes in the Utah County area, Utah, USA. If you are located in that area and are interested in learning how to draw people, sign on up!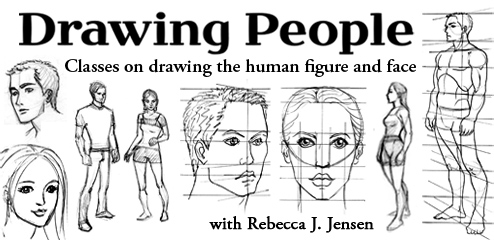 Drawing People

Learn to draw human characters with skill by gaining a knowledge of the underlying proportions and shapes of the human body and face. Classes for those with an interest in illustration, comics, and animation. Three class cycle for ages 12 and up.
Class 1 - Drawing Figures
Proportions of the human body: male, female, and child; classic ideal and normal proportions.Greenwood
Class 2 - Drawing Faces
Placement of the features in classic proportion to each other: male, female, and child; front, side, and three-quarters view.
Class 3 - Drawing Process
Steps to creating a finished piece, from thumbnail to penciling, inking, and color. Also, details on drawing hands and feet.
Prices:
All three classes - $35
Each class individually - $12
Supplies: I'll provide pencils and paper, but you can also bring your own pencils, erasers, and a sketchbook. Come ready to draw along with me as I explain proportions, angles, and tips on drawing the human face and figure.
September 2011 - Orem Schedule

Dates: Sept. 7 - Drawing Figures, Sept. 14 - Drawing Faces, Sept. 28 - Drawing Process
Time: Wednesday nights, 7:00-8:30 pm
Location: Roberts Crafts Store - Orem (map)
To enroll: Please email me at purplerebecca at (----no spam---) gmail.com to sign up.