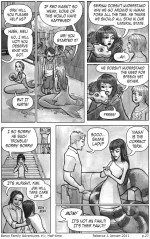 If the site looks a little wonky (or a lot), it's because I'm updating my Comicpress, and it's gonna take some work. But hey, we've got transcripts! XD
Sorry there were no updates last week! Life, the Universe, and Everything got in the way.
Just read: Gilda Joyce, Psychic Investigator by Jennifer Allison, about a hilarious and self-confident 13 year-old and her investigative shenanigans. It was fabulous, and I highly recommend it.