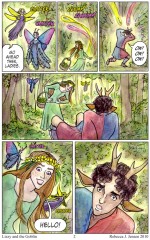 Recc o'the Update:
If you haven't seen Niroot Puttapipat–himmapaan–'s work, you need to go through his gallery right now. Exquisite, golden-age inspired illustrations: watercolor, ink, pencil, and paper-cut. They make me fall to the floor gasping. His Jane Austen illustrations alone…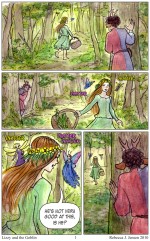 Welcome back! The hiatus is over, and a new comic has begun. This'll be a short one: only thirteen pages. I hope you enjoy it!
"Lizzy and the Goblin" is dedicated to my Grandmother Elizabeth, another fearless and wonderful red-head who'll talk to anyone. Happy 90th Birthday, Grandma!
—-
I've also added a Paypal donation button to the sidebar. If you feel like tipping the artist, warm fuzzies will follow you.